Butler's We Buy Houses
Leading The Way In The Butler Real Estate Market
Contact us at 724-283-5021
Email: [email protected]
About
Real Estate Solutions For All
Butler's We Buy Houses is the area's leading real estate solutions company. We successfully work with homeowners, buyers, sellers, real estate agents, and investors buying and selling all types of residential real estate. We are confident that we can find the right property or solution for you.
Whether you have a house to sell, are looking to buy your next investment property, or are looking for your family's "forever home," we are excited to be a part of your journey and are ready to help you make the best decisions for your situation. We are confident that our dedication to making your experience a smooth and successful process will be evident right from the start.
At Butler's We Buy Houses we specialize in buying and selling our homes at the price, and on the timeline, that works best for all parties involved. Our extensive knowledge of real estate investing and large network of real estate investors nationwide allows us to offer more buying choices and a wide variety of selling options for all types of homebuyers and sellers, including financially distressed homeowners.
Our mission is to work hand in hand with all parties, to handle every situation with the utmost professionalism and care, and to seamlessly close on every transaction while doing what's best for you. We love helping people and improving neighborhoods and redeveloping the areas where we work.
With a wealth of experience in buying and selling homes under our belts, our team and network of real estate experts have handled some of the most complicated real estate transactions on the market today.
Whether you're looking to sell your existing home or investment property or are looking to buy your forever home or a new investment, we are dedicated to helping you find the right solution.
We will not be acting as your real estate agent or broker, but we are excited about working directly with you OR with your agent or broker if you are represented by one. If you have additional questions on agencies please contact your local real estate commission.
Featured Property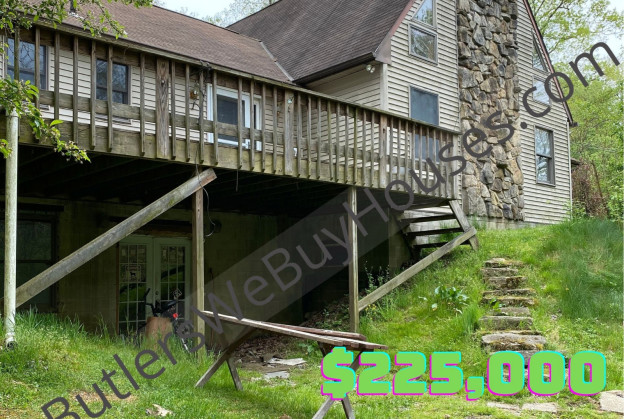 509 Crisswell rd
Butler, PA
$10,000 down! $1600/mo! WORK FOR EQUITY/RENT TO OWN! USE YOUR TAX RETURN! WILL CONSIDER TRADE FOR DOWN! 3 bedroom/3 full bath - 2 acre wooded private Penn Township escape with large loft. Needs some TLC WORK FOR EQUITY!!!! Home being sold AS IS...$225,000 (After Repaired Value $300-$325,000) - 2 full kitchens (family room- downstairs and main floor) Large Loft above beautiful open cathedral ceilinged living room could be another bedroom or an awesome office with balcony overlooking the woods and wildlife. Living room also has a huge floor to ceiling 20' fireplace! Huge family room with full kitchen, bathroom and stone fireplace in basement. Pool table stays! Plus...a huge workshop that can easily be converted to a garage if desired. Basement also has an office space. 1st floor laundry room and back screened in porch. Huge deck off of the Master bedroom and huge deck on the front of the house make this quite the Nature Lover's Dream. Don't miss out on an opportunity to put in some work to make this YOUR Dream Home! SOOOO much potential! Call us now! 724-283-5021
Our Services
Testimonials
I would like to thank you for the help you gave to us in helping us get our own home.  Thank you for your patience and your help with our closing.  I would like to thank you for taking the responsibility for the repairs our kitchen needed during our wait.  Not too many people would have done what you did and getting it done quickly.  I wish I knew more people who are as kind and generous as you have been.

Thank you
I had it listed for seven months, and within one week you had a buyer!  Your service was very professional and a "Win-Win" for the buyer and myself.  I would recommend you to anyone who is looking to sell, or for that matter looking to buy a home.
Hi Guys,

I purchased the property on eighth avenue in Natrona Heights. My family and I are very happy with everything! Thanks for all of the hard work you put in to the sell!
Recent Posts
What Is Rent-To-Own?

Own Your Dream Home Today!Owning a home is truly the American Dream. Buying a home can be a difficult process, especially for those with poor credit, no credit and/or a limited amount to invest. A Lease to Own, also known as Rent to Own, Option may be just for you! Based on your individual criteria, […]

Photo Tips For A Standout Property Listing

How do you get your listing from good to great? You take your shot… And then you take it again. I'm talking about pictures! As a real estate investor, I'm always surprised by the photos that agents, or other investors, choose to include with their property listings. Dirty mirrors, pet food bowls, and broken swing […]

What's Your WHY?

Before finding your why, building a business is just work… But once you find your WHY, the work has purpose. Around here, we talk a lot about finding freedom. For some people, freedom is their why. They just want to be free of many different things… their job, their boss, their time deficit, their financial restrictions. But for most people, finding freedom […]